Byrne's science writing for Quanta Magazine syndicated to Scientific American and Wired
U.S. Senator Dianne Feinstein's husband sells post offices to his friends, cheap.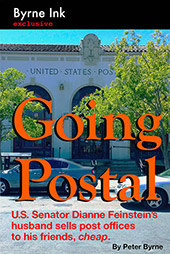 Now available on Kindle: National award-winning investigative journalist Peter Byrne reports that the husband of U.S. Senator Dianne Feinstein of California has been selling post offices at bargain basement prices—often to his own business partners. Richard C. Blum is the chairman of CBRE Group Inc., the largest commercial real estate firm in the world. In 2011, the Postal Service awarded Blum's company an exclusive contract to sell off postal real estate in cities and towns across America. Byrne's in-depth investigation details the many apparent conflicts of interests driving the CBRE deals. It brings to light a scathing government audit of Blum's contract that is being ignored by the Obama administration. The investigation reveals how Senator Feinstein pressured the Postmaster General to stop a postal construction project, and to favor the interests of a developer working with her husband's firm. Byrne explains why the Post Office is not really broke and how powerful forces on Capitol Hill are angling to franchise the U.S. Mail monopoly. We learn that the post office executives in charge of Blum's contract have been up to financial shenanigans of their own. This is first-class investigative reporting on a vital issue of the day that you will not find anywhere else.
Get it at Amazon
Bad Boy of Physics:
Peter Byrne Interviews Leonard Susskind
(06.07.2011, Scientific American)
Leonard Susskind rebelled as a teen and never stopped. Today he insists that reality may forever be beyond reach of our understanding.
Download PDF, 295K
Byrne a Finalist for Investigative Reporters & Editors Partnership Award
(04.2011) Peter Byrne's story on UC regents' conflicts of interest was just announced as an Investigative Reporters & Editors Partnership Award finalist (along with ProPublica, NPR, Financial Times, etc).
Investigative Reporters & Editors site
Byrne honored by the Society of Professional Journalists Northern California chapter with a First Amendment Award
(02.2011) SPJ honors Byrne for reporting the multipart series on the website Spot.us outlining how several University of California (UC) Regents approved a series UC investments in private deals and public companies in which they had personal financial interests.
SPJ Press release
Byrne's Regents story on Spot.us
Multiple Universes, Mutual Assured Destruction, and the Meltdown of a Nuclear Family
Now available from Oxford University Press
Peter Byrne, 368 pages | 50 b/w photographs | Hardback | Publishing in May 2010 (estimated)
Price: £25.00
Also available on Amazon!
Reviews
Metascience
"The author is the first to have obtained access to the Everett family archive, and he also draws on a large number of conversations and correspondences with people who knew Everett during the genesis of his theory and through the years following its publication. The book is admirably researched; and it is authoritative both on Everett's opinions about his own theory and on its reception by others." Full review (PDF)
American Journal of Physics
Look for Adrian Kent's review of "The Many Worlds of Hugh Everett III" in the next issue of the American Journal of Physics.
The Quantum Times
"With the publication of Peter Byrne's biography of Hugh Everett, the story of the sometimes troubled life of the father of the many-worlds interpretation of quantum mechanics has finally been released from its abode in dusty boxes stored in a basement in California." full review
Secrecy News
Book: The Many Worlds of Hugh Everett: "...a thoughtful account of an original figure and his diverse contributions to a momentous period in the history of science and national security."
New Scientist
Not for this world: The heartbreaking and strangely beautiful story of a troubled genius (web) (pdf)
Nature
The father of parallel universes: Robert P. Crease is fascinated by a biography of quantum physicist Hugh Everett III, the difficult man behind one of the most logical and bizarre ideas in the history of human thought. (pdf)
News
(09.2010) The Investors' Club: How the University of California Regents Spin Public Money into Private ProfitWebsite Spot.us and a consortium of California news weeklies publishes Byrne's 8-part investigation into financial conflicts of interest among the Regents of the University of California. Read it at Spot.us.

(08.2008) The Foundational Questions Institute (FQXi) has awarded Byrne a grant in support of his biography of Hugh Everett III: "The Many Worlds of Hugh Everett III: Multiple Universes, Mutually Assured Destruction, and the Meltdown of a Nuclear Family." (Oxford University Press, 2010) Link
(03.2008) Byrne's series exposing United States Senator Dianne Feinstein's longtime conflict of interest with her husband's military contracting businesses is a FINALIST in the 2008 Investigative Journalists & Editor's National Award Contest.
(2008) California Newspaper Publishers Association has awarded Byrne for Investigative / Enterprise Reporting on Dianne Feinstein's Iraq Conflict.
"The Many Worlds of Hugh Everett" in Scientific American
(Scientific American 11.21.2007, PDF, 2.3MB)
After his now celebrated theory of multiple universes met scorn, Hugh Everett abandoned the world of academic physics. He turned to top-secret military research and led a tragic private life.
(2007) Byrne is contracted to Oxford University Press to write a biography of Hugh Everett III to publish in 2010. The title of the book is "The Many Worlds of Hugh Everett III: Multiple Universes, Mutually Assured Destruction, and the Meltdown of a Nuclear Family."
Byrne and Prof. Jeffrey Barrett of UC Irvine are contracted to Princeton University Press to publish an annotated anthology of Everett's works in 2011.
FQXI has this to say about Byrne and his Everett project.
(10.30.2007)
After 120 issues of The Byrne Report, the author goes on an extended leave of absence to write a book.
Previously in The Byrne Report:
Problem = Solution (10.17.2007)
Permaculture, Daily Acts, uxorious pleasures.
The Feinstein Files
Byrne's investigative series on U.S. Senator Dianne Feinstein.
Research supported by a grant from the Investigative Fund of the Nation Institute
(08.08.2007)
Byrne's national exposé of Sen. Dianne Feinstein's conflict of interest has been selected as one of the 25 most underreported stories in 2006-2007 by Project Censored.
Senator Warbucks: Feinstein's Iraq Conflict (01.24.07)
Dianne Feinstein has been tapped to lead Congress on ethics reform, but scrutiny of her own ethics raises uncomfortable questions.
Daddy Kleinbucks (01.31.07)
Founder of the nonprofit investigative Sunlight Foundation, Michael R. Klein has made some other curious choices.
Blum's Plums (02.21.07)
Was Senator Feinstein's husband compromised in his interests with the UC Regents?
Feinstein Resigns (03.14.2007)
Sen. Feinstein resigns from MILCON. Perhaps it was media pressure, perhaps coincidence. Either way, should she abscond her responsibilities to the wounded?
The Arnold Files
Byrne's collected reports on California's Governor Schwarzenegger.
(Salon.com, 02.15.05)
The movie star poses as a corruption-fighting moderate. But since taking office, he's pursued a blatantly right-wing agenda while raking in big bucks from special interests — and ignoring his own financial conflicts.
Articles by Peter Byrne on government, politics, crime, national security, physics, art, religion, sex, etc., including:
:: Mother Jones
Battlespace America (04/19/2005)
The new Pentagon can peruse intelligence on U.S. citizens and send Marines down Main Street.
:: Salon.com
Taking on a nation (01/13/2005)
Claiming they were sexually harassed and abused while working at a tribal casino, a group of California women are suing. There's only one problem: As part of a sovereign Indian nation, the casino is exempt from civil U.S. law.
Related:
"Monthly yanks lawsuit story - Writer says owner of S.F. magazine shied from scrutiny"
:: San Francisco Magazine
An All-Too-Fragile Union (03/2005)
Thousands of Bay Area gay and lesbian couples are learning that domestic partnership isn't in their best interest — and may never be.
:: Smart Publications
The Fate of Vitamins (03/27/2005)
A low-profile organization created by the United Nations is about to ban global trade of many essential nutrients — and there may be nothing you can do to stop it.
:: SF Weekly
Death, Maiming, Money and Muni (08/06/2003)
Award winning (IRE, AAN) investigation of the San Francisco Muni.
:: Metroactive
The Great Golden State Gas Swindle (10/19/2005)
Think you're paying more for gasoline because of natural disasters? That's just what the scamming oil industry wants you to believe—but it's not true.